Leader in Mixing Solutions
VMI offers premium mixing and kneading solutions for the Food, Bakery, Cosmetic, and Pharmaceutical industries. Our equipment is reliable, modular, and designed to meet your specific production needs, from laboratory and pilot units to production platforms and automated systems.
Our Long-term Vision
VMI is committed to providing efficiency and innovation in our mixing solutions to help you meet your development and performance goals over the long term.
Our purpose is to make our mixing technologies your best ally in meeting the challenges of your respective markets.Our vision is to be a key player in the industrial mixing sector by designing reliable, safe, and sustainable solutions.
To ensure the above, we cover the entire life cycle of your installations, from
Development of industrial processes in the pre-project phase
Design engineering, installation, and setup
Training and maintenance
In-situ optimization of your production tools with guaranteed short intervention times
It's our hope that you benefit from an efficient and controlled industrial unit through these services.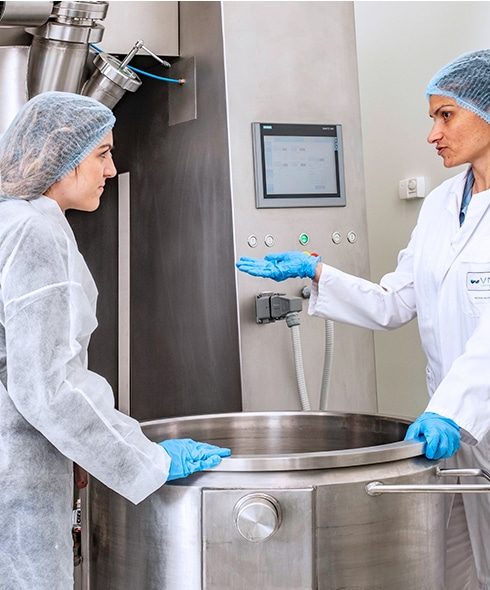 Expert Solutions Adapted to Your Needs
Our product offerings cover the needs of the entire global market of bakery, pastry, food, cosmetics, and pharmaceutical industries.
Our customers are at the core of our business. To best support you, we have available a laboratory and technical trial center that's equipped with state-of-the-art analysis, test, control, and production equipment.
We are committed to designing ever more efficient equipment to support the development of your business. Our mission is to help you become a major player in your market.
VMI: A Global Presence
VMI is an international company. We continue to develop mixing solutions for global markets while respecting the cultures, regulations, and laws specific to each country.
To this end, our sales teams are mobile and travel worldwide to meet our customers at their production sites. We also possess a network of representatives and distributors that cover all global regions to support our sales teams. These agents and distributors are trained in VMI mixing and kneading technologies.
Our service technicians alsotravel to meet our customers wherever they are in the world to ensure proper installation and upgrades of VMI equipment.
VMI's organizational development relies on our membership as part of the Linxis Group. Our partnerships with local and international players in the bakery, cosmetics, pharmaceuticals, and specialty chemicals industries have shaped our knowledge of these markets and their unique mixing processes.
Synergy with the Linxis Group group of companies
Closeness and shared trust with our clients and partners
Collaboration with a network of responsive agents and distributors
A Long and Rich Story
VMI has been building on its mixing expertise for over 70 years.
Our core businesses in the artisanal bakery (with the Mahot, Rex, and Phebus brands) and the paint industry (with the Rayneri brand and the Turbotest® mixer) have guided our experts in accompanying the growth of our customers in their respective markets. Through international development and the industrialization of its mixing solutions, VMI was able to enter new markets such as snack foods, catering, cosmetics, and pharmaceuticals.

VMI has become a leader in mixing solutions by developing and patenting innovative technologies, including:
The first Verymix® continuous mixers and horizontal vacuum batch mixers with cooled bowl on the market.
The first automated mixing system with staged fermentation.
The widest range of planetary mixers, with volume capacities from 10 to 900 liters.
Trimix with three independent agitations and a vacuum introduction in the heart of the emulsifier. This vacuum homogenizer can be integrated into complete cleanroom production platforms.
Kneadster® double tool batch mixer, which can be integrated into a robotic kneading system with suspended shuttles.
Continuum®, the only continuous vacuum mixer on the market.
To continue its business development, VMI made its first company move in 2017. Our employees moved into our current location, premises with a total grounds area of 13,000m². Our new location now combines the VMI production site and headquarters.