Process Development Center for the Bakery, Pastry, Food, and Snack Industries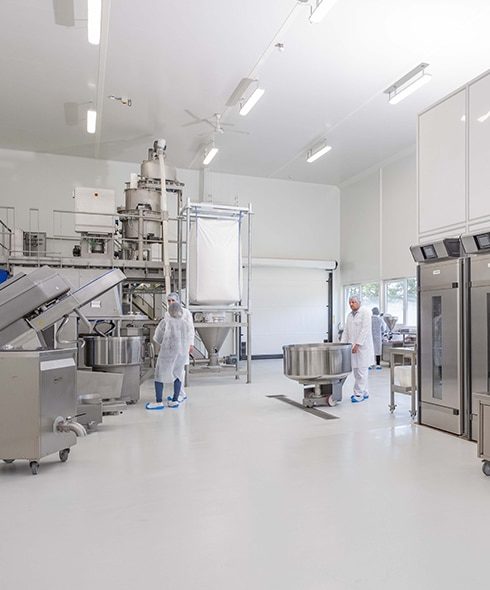 An Innovation and Testing Center
VMI has a Process Development Center on site. Here at this 700 m² Research & Development center, we carry out tests to help our customers develop more innovative and efficient mixing solutions for their manufacturing activities. We rely on our multidisciplinary experts, as well as our scientific and university partnerships to bring about these solutions.
One of the test laboratories is specially equipped to accommodate manufacturers in the bakery, pastry, and food industries. It possesses all the equipment necessary to test the complete production process.
All of VM'sI mixing technologies are available, including:
Mixing under vacuum or pressure
With assistance from VMI technologists, customers can perform specific tests using their ingredients.
The Process Development Center is complete with an analysis room. Our technologists use different tools (viscometer, microscopic analysis, texturometer, density/porosity measurement, 3D imaging, etc) to characterize your dough and to measure and understand your tests. Based on the test results, you can expect to receive our technologists' recommendations to help optimize your processes and recipes.
Want to know more about our process optimization services at the testing center?
Support From a Team of Experts
Our certified technologists offer personalized services, including co-development of your recipes. Their goals are to optimize your manufacturing processes and improve your production quality to help you achieve maximum productivity.
Our baking and engineering experts provide your teams with comprehensive information on operations aimed to increase your understanding of optimal mixing parameters.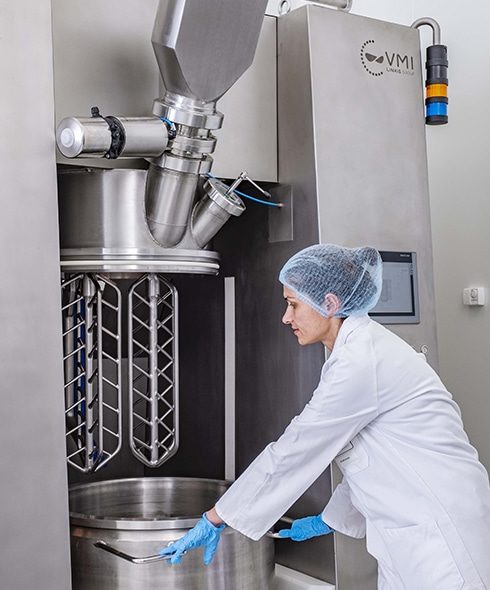 Complete Control of Each Stage of the Manufacturing Process
The Process Development Center allows bakery, pastry, food, and snack manufacturers to carry out complete tests. The laboratory is equipped with a wide range of equipment to manage the entire manufacturing chain of operations:
Storage
Transferring
Dosing
Fermentation
Kneading and mixing
Shaping and depositing
Baking
Cooling and freezing
In addition to training you on VMI equipment, our team of experts can help you with various key mixing objectives like increase production productivity, improve the characteristics of the dough, modify the composition of your recipes, or optimize fermentation times.
VMI helps you obtain control over every variable in the production process:
Economic and responsible production: characterize products and processes to control production costs and limit losses (depending on the tool, capacity, rotation speed, hourly flow rates, etc.)
Customization, consistency, and quality of the final product:

Incorporation of inclusions
Automated dosing of ingredients
Optimization and control of kneading time
Mixing under vacuum or pressure
Temperature control efficiency
Fermentation
Clean Label approach
Optimize hygiene

Transfer and deposit of products
Emptying
Cleaning in place
Control of cleaning parameters (duration, consumption)
A Wide Range of Equipment to Determine the Most Suitable Mixing Technology for Your Needs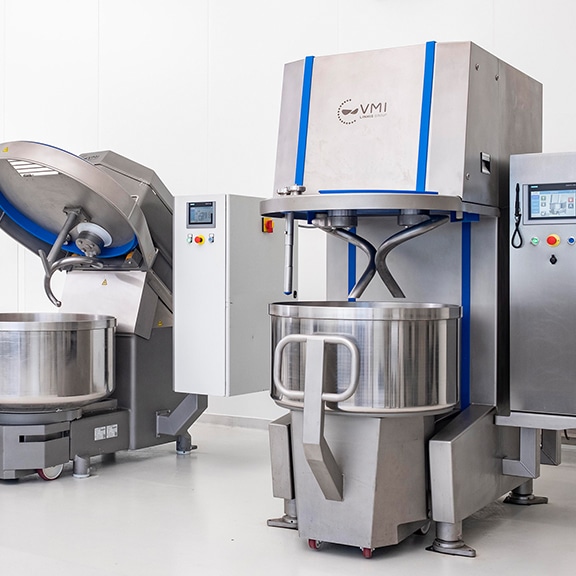 Batch Kneading
The Process Development Center is equipped with removable bowl vertical mixers. The SPI AV spiral mixer can knead up to 650 kg of dough per batch. It ensures performance, robustness, and consistency for 24-hour production. The SPI AV has 5 adaptable tools to knead doughs with high or low hydration.
The Kneadster is a double tool mixer that's among the latest VMI innovations. It limits heating of the dough, and reduces kneading time by 30%. The HMI allows for control and recording of data. Up to 450 kg of dough can be produced per batch. The Kneadster can be equipped with its two other "pastry" tools to produce batter products, cookies, cereal bars, vegetable protein products, and more.
The Process Development Center also provides SPI LAB laboratory mixers. With a 10-liter bowl, the SPI LAB spiral mixer can be used to develop and test recipes in small quantities. A software program monitors and controls time, speed, energy, and temperature parameters.
Continuous Kneading Systems
VMI has been developing continuous kneading systems for more than 30 years. Designed for intensive production, our continuous mixers have dough flows of up to 7 tons per hour. These systems ensure optimal transmission of energy to the dough, constant control of the temperature, and increases in dough elasticity.
The Verymix continuous mixer is particularly suitable for par-baked, pre-proofed, and frozen doughs of traditional bakery items (baguettes, pastries, puff pastries, ciabattas, pizzas).
The Continuum continuous vacuum mixer is designed for the biscuits, crackers, sandwich bread, and other soft products.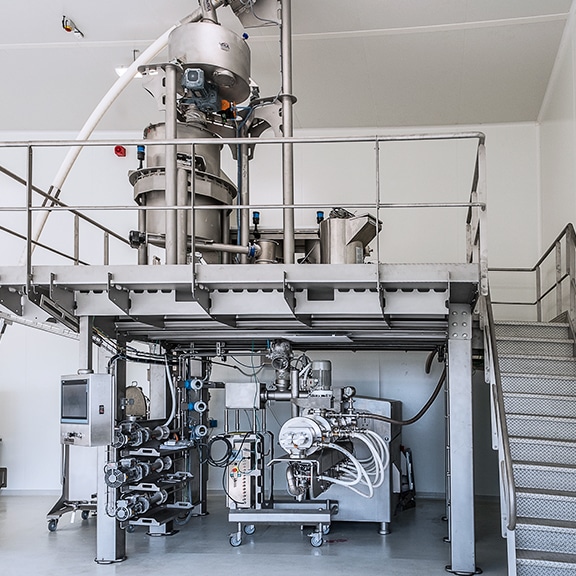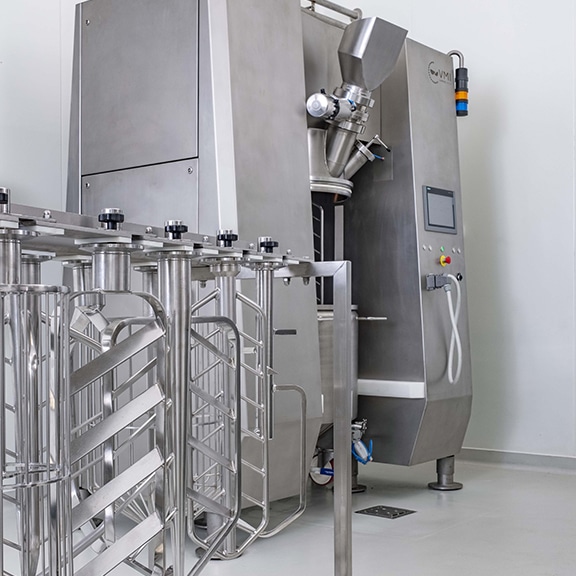 Planetary Mixers and Machines for Conveying and Depositing
The Process Development Center also provides the Ultimix planetary mixer. The Ultimix's wide range of tools, ability to mix under vacuum or pressure, and heating and cooling system allow it to carry out various operations including aerating, emulsifying, creaming, crumbling, and whipping. The Ultimix can hold up to 630 liters per batch.
Once the preparation of the product is finished, the bowl can be emptied using a transfer pump from Unifiller (a subsidiary of Linxis Group). The laboratory also has depositing, dressing and filling machines for pastry and catering products.