Process Development Center for the Healthcare and Chemicals Industries
A Centre for Trial and Analysis
At VMI, we have a 700 m² Research & Development Center onsite that includes two test laboratories, an analysis room, and two meeting/training rooms.
Our testing laboratories are designed to support cosmetics, pharmaceutical, and specialty chemicals manufacturers in their testing of our equipment. From bench-top mixers to production units, the entire range of VMI mixing equipment is available to test against your raw materials and ingredients. The production environment replicates the conditions of a cleanroom.
VMI also provides an onsite analysis room. Density, viscosity, texture–all aspects of your product formulations are measured and analyzed here so that nothing is left to chance. We encourage customers to take advantage of the analysis room to optimize their processes or even their product formulations.
Want to know more about our process optimization services at the testing center?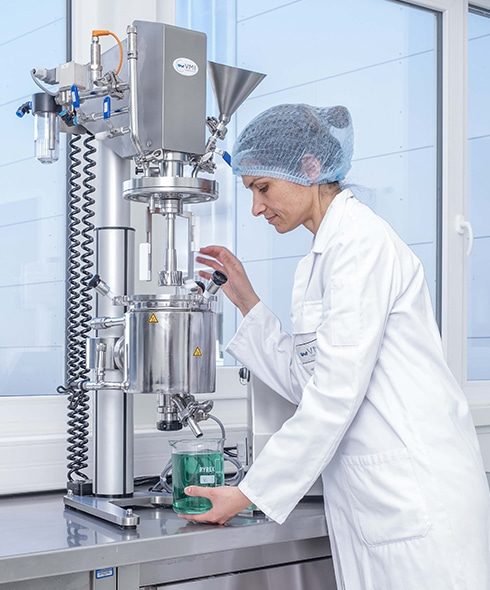 We Have A Team of Technologists Ready to Support You
Our team of technologists at the Process Development Center are experienced PhD and process Engineers who have been trained rigorously for their task to support you. Their mission is to help you optimize your processes and improve the quality of your production wherever necessary, from the definition of the formulation to the final product.
Transposing formulations to an industrial scale, improving production traceability, implementing or improving in-place cleaning, optimizing production times; no matter what your goals are, our technologists will help your teams to achieve them safely.
Guided tour of our Process Development Center
Complete Expertise on the Key Steps of the Manufacturing Process
VMI technology can extrapolate results from your laboratory tests and apply them directly to your production. VMI facilities cover the critical stages of the production process:
Product development and formulation
Dosing of ingredients
Mixing of liquid/liquid or liquid/solid ingredients. A wide variety of mixing processes are possible with VMI equipment: dilution, suspension, dissolution, dispersion, homogenization, emulsion, and more
Cleaning and sterilization phase
Emptying and conditioning of the product
Analysis of the formulated and manufactured sample
Beyond helping you test and select the right equipment, VMI experts will also accompany you to your production site to help you with your equipment installations and show you best practices that will improve your process quality, productivity, flexibility, repeatability, and hygiene.
Economic and responsible production: determination of the mixing tool according to the operation and the raw materials
Quality and repeatability of production:

Qualification and introduction of raw materials
Dispersion time according to the introduction mode of the ingredients (remote or in the heart of the emulsifier)
The manufacturing time, from clean bowl to clean bowl
Vacuum and pressure management
Thermal regulation: heating and cooling speed
Automation: programming, control, and traceability

Optimal hygiene and sterilization:

Emptying speed and cleaning
Cleaning and Sterilization In Place: economical and secure system
A Complete Range of Equipment to Carry Out Tests from Formulation to Large-scale Production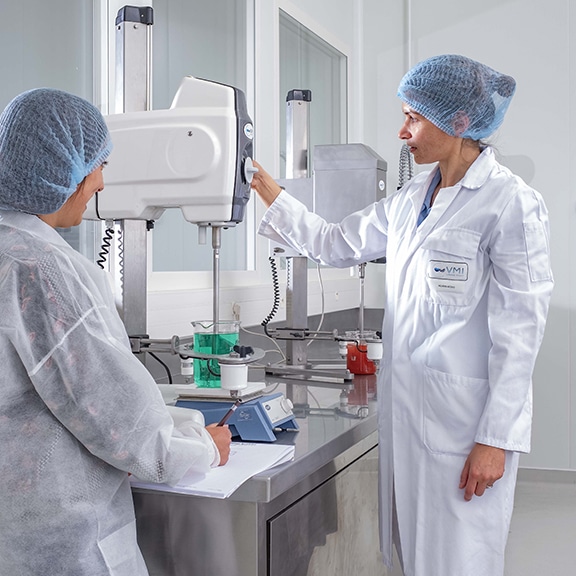 Laboratory mixers
Bench-top mixers are the ideal equipment for a laboratory. They enable the development of the product's formulation according to the product's rheology. They come with a wide range of turbines, propellers, and emulsifiers to ensure various process parameters for the tests such as shear rate, pumping effect, speed range, etc.
Homogenizers for Industrial Transposition
Once the product formulation has been validated in the laboratory, it is crucial to carry out an intermediate test phase before transfering it to be produced on an industrial scale. The Process Development Center is equipped with laboratory or pilot homogenizers (up to 50 liters) to understand and validate the process parameters, the equipment, and the chosen invariant. The pilot homogenizer can obtain results that can be directly extrapolated for real-time production.
Want to know more about the key points and challenges of industrial transposition? Read our blog post.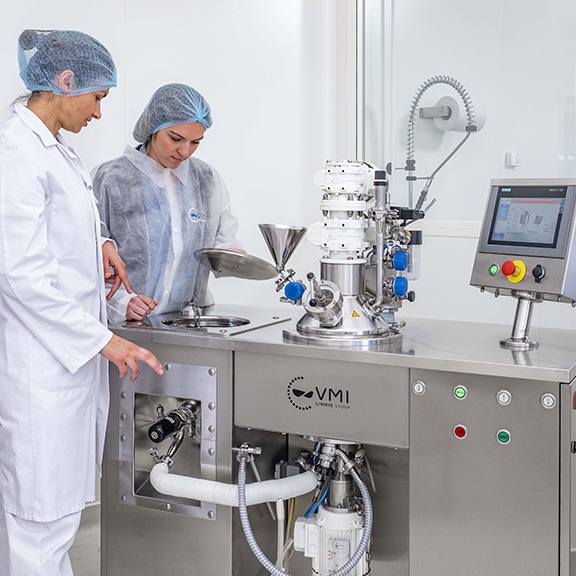 Mixing Solutions for Industrial Production
In the laboratory, customers can test in conditions close to a cleanroom environment and/or production platform. The Trimix production homogenizer can prepare up to 20 tons of product in a single tank without transferring to an intermediate batch. The touch screen control panel allows automated control of the production process.
The Process Development Center is also equipped with adjustable industrial mixers and planetary mixers for mixing operations that involve high viscosity products.