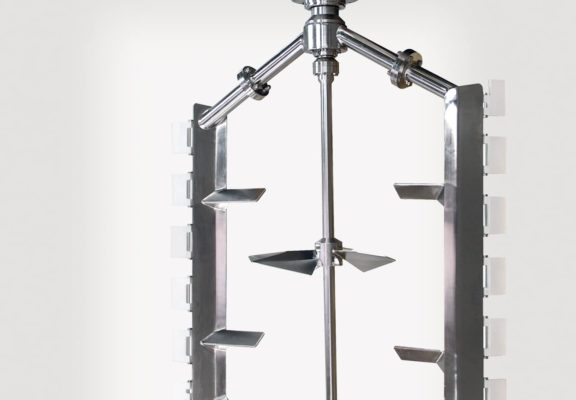 Agitators for Industrial Mixers
VMI designs and manufactures a full range of agitators that are well suited to a variety of mixing operations. With over 70 years of experience in producing industrial mixing equipment, we ensure our agitators perform at top standard.
To match you with the right agitator, our teams carefully study your processes regarding dilution, dissolution, suspension, homogenization, dispersion, and emulsion. Then, we define the right sizing, power, and speed parameters for any liquid-liquid or solid-liquid mixtures. Our goal is to help you achieve a high-quality end product and optimize your processes for productivity.
A variety of agitator blades (radial, axial, mixed, or peripheral) helps optimize movement and shearing, no matter the volume or rheological characteristics of your product. These agitators are specifically designed to adapt to and equip VMI industrial mixers.
From 10 to 200,000 liters, depending on the model
Variety of mixing processes
Wide range of agitators
Versatility and adaptability
Diversity in volumes, viscosity ranges, dispersion, and emulsion fineness
Applications
VMI offers mobile agitators adapted to all liquid/liquid or solid/liquid mixing operations. The agitators cover a wide range of sectors of activity: chemicals, coating, pharmaceuticals, cosmetics, etc.