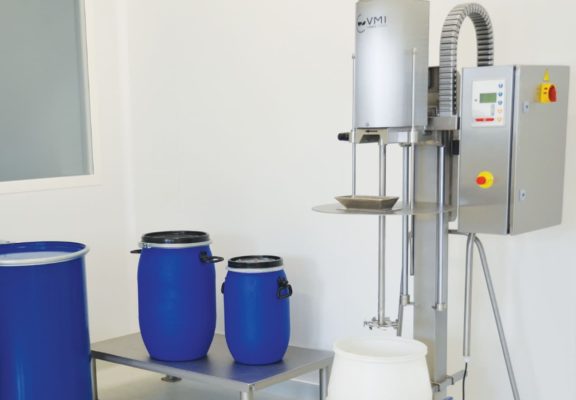 Adjustable Industrial Mixers
Mixing very thick products and dispersing highly charged ingredients is part of VMI's portfolio, so if you're looking for a robust mixer, you're in the right place. We design liftable mixers that cover a wide range of applications and capacities from laboratory stirring to industrial mixing.
Our equipment is designed to streamline complex processes done under demanding conditions, such as:
Pressure

Vacuum

Special temperature conditions

Explosive environments/ATEX
These mixers, along with your choice of turbines and propellers, ensure:
Maximum ergonomics for the operator

A very high level of safety

Excellent quality of mixtures
From 10 L to 20,000 L, depending on the model
Versatility of applications
and modularity of equipment.
Mobimix Adjustable Industrial Mixers
Easy to use with a strap-on tank attachment and electric application lift
Comes with a wide choice of tools for liquid-solid and liquid-liquid mixtures
Safe and reliable with an anti-spray cover and an automatic machine stop (in case of a detected anomaly)
With the Mobimix, you can quickly achieve your desired end product as well as any pre-mixes that are meant to be integrated into fine chemicals, cosmetics, or pharmaceutical production. 
This range of liftable industrial mixers comes in 5 different versions:
Mobimix 600: from 10 to 100 liters

Mobimix 800: from 30 to 200 liters

Mobimix 1 200: from 100 to 1 000 liters

Mobimix 1 500: from 200 to 2 000 liters

Mobimix telescopic: from 50 to 1 000 liters
These mixers are made of simple agitators on supports that include a capacity for raising and lowering of the head. They are specially designed for industrial applications of small capacities and pilot mixes.
The Mobimix guarantees versatility and modularity in your production environments with:
Multiple tools for a

wide variety of processes

and product viscosity

Integration in ATEX environment using a remote frequency converter
Multimix Adjustable Mixers
High output of thick mixes via coaxial stirring
Reduces energy consumption
The Multimix range has a capacity of 100 to 10 000 liters. These equipment allow the mashing and dispersion of high viscosity products. They have been carefully adapted to work with very thick mixtures such as:
Tile adhesives

Facade coatings

Roughcast
These processes are possible thanks to a coaxial two-movement mixer (slow/slow or slow/fast) that can operate in vacuum or under pressure.
This range of liftable industrial mixers performs extremely well in the mixing phase, in part due to its ability to work using reduced power within short production times.
Supermix Adjustable Dispersers
Easy loading of raw materials from the front or back of the equipment
Adapts to your environment, with the possibility of wall mounting the Supermix
Versatility of application
The Supermix is a liftable industrial mixer. It is specially designed for the dispersion of solid matters within liquids. This range of mixers is ideal for the implementation of:
Paints

Inks

Varnishes

Other coatings
This equipment is designed for ease of use and low maintenance. The Supermix is equipped with:
An electric lifting of the agitator by double chain

A protection grid for operators which also allow loading of raw materials

An adjustable tank positioning system

An ergonomic tank clamping system with a locking arm

A control box with speed variation
Applications
VMI's various ranges of liftable industrial mixers are extremely versatile and can help you with a variety of processes.