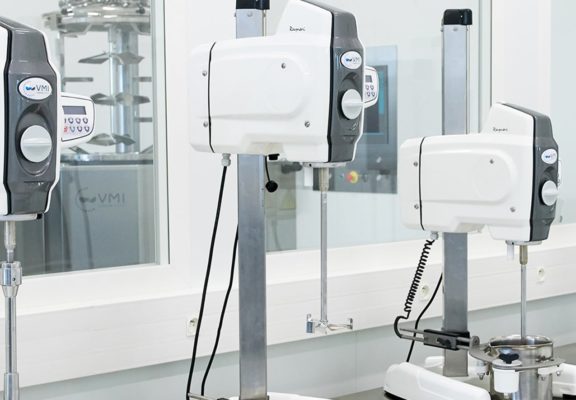 Bench Mixers
The VMI bench mixers are perfect for research and development work, such as tests on bench formulation and pilot extrapolations. This range of equipment is designed for laboratory use in the cosmetic, pharmaceutical, chemical, and agri-food industries. They come with a wide range of turbines, propellers, and emulsifiers to match the rheology of your products and their processes. These mixers are designed to provide maximum safety and ergonomic comfort for the operator while producing impeccable mixture quality.
Find out our laboratory vacuum mixers.
Versatility in applications
Multiple turbines, propellers, and rotor-stator emulsifiers
Repeatability of process parameters
for industrial scale-up
Laboratory Planetary Mixer R51
Mixes high viscosity products, with the requirement of large proportions of powders or mineral fillers
Versatility with 3 interchangeable tools
Hygienic stainless-steel design
Numerous options available to widen the range of mixing processes
The planetary mixer R51 is perfect for the mixing and blending of high viscosity products. It's particularly useful for chemical products such as:
Resins with mineral fillers, with or without a catalyst

Preparation of ceramic slurries, refractory products

Concrete mixes for standardized tests (with aggregates)

Cement mixes with or without fibers

Tinting of fatty inks for printing
Three interchangeable tools are available: the cross-section paddle (standard), the spiral (optional), and the hook (optional). The mixer is optimized for hygiene with its all stainless steel design (bowl, grid, tools, frame, etc).
With a useful capacity of 3 liters, the R51 planetary mixer's functions can be expanded with these options:
Vacuum version allowing the debulling of products during mixing

Vacuum pump 

Double jacketed bowl for heating and/or cooling by water

Heating unit

Temperature sensor in the bowl with quick connection

Removable bowl scraper
Bench-Top Mixer Turbotest®
Versatility in applications using a wide range of turbines
Repeatability of mixing parameters
Easy to set up and operate
The Turbotest® laboratory mixer enables manufacturers to develop formulations according to the end product's rheology. It has multiple interchangeable tools (turbines, propellers, rotor-stator emulsifiers), making it ideal for:
Quality testing

R&D trials

Development of new formulations
The Turbotest® guarantees the reproduction of process parameters for scale-up operations (e.g. from laboratory to industrial production). It validates turbine types and speed ranges according to the ingredients used whether the ingredients are liquid, powder, viscous, miscible, or immiscible. The Turbotest® covers a capacity range of 250 mL to 5 liters.
The design of this innovative benchtop homogenizer benefits from over 60 years of VMI research conducted in France and worldwide. 
You can order the Turbotest® and its mixing tool kit (2 packages to choose from) online at www.mylabmixer.com. 
Laboratory Disperser Supertest
Easy to use and optimized for ergonomic comfort
Production versatility with different propellers, turbines, and emulsifiers
Variety of volumes: from 200 mL to 20 liters
Safe to use (conforms to CE standards)
The Supertest laboratory disperser provides the necessary flexibility and power  needed in the agitation of complex products. The Air Supertest is ATEX compliant for safe work in explosive atmospheres.
The mixer shaft can be removed to allow the operator to change tools independently. The following parts can adapt to the rheology of the raw materials being mixed:
Propellers for low-speed mixing

Turbines for high-speed dispersions of immiscible phases

Rotor-stator for complex emulsions of thick ingredients
The agitation speed of the Supertest range varies according to the model:
Supertest from 250 to 3600 rpm
Air Supertest from 250 to 3000 rpm
Electrical Supertest ATEX from 250 to 2500 rpm
Applications
VMI laboratory mixers can be used for a wide range of applications thanks to their interchangeable tools. They enable the homogenization of liquid ingredients, the dissolution of powders, and the dispersion of thick or viscous mixtures.