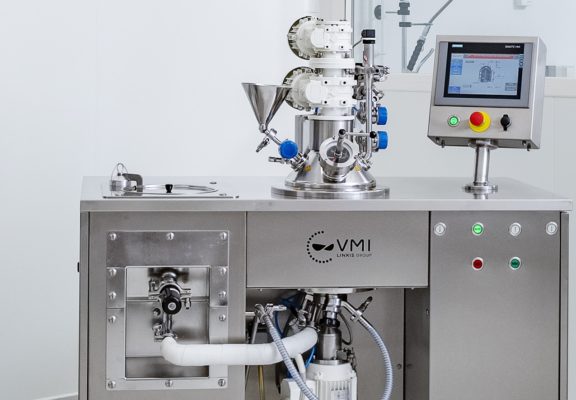 Pilot Vacuum Homogenizer
VMI's pilot vacuum homogenizer allows manufacturers to test their mixtures under production-like conditions in the laboratory. It helps our customers obtain pilot results that can be extrapolated for larger scale production.
This equipment transposes your test formulations to ones that will be ready for industrial production. With it, you can test your dispersion, emulsification, and homogenization processes. 
The pilot vacuum homogenizer's  versatility can handle a wide range of applications including:
Cosmetic emulsions

Body milks

Lotions

Shampoos

Toothpaste

Sunscreen creams
thanks to its thermal regulation with triple agitation.
allows recording of recipes for perfect product repeatability.
Trilab Pilot Vacuum Homogenizer
Easy access to tools via the lift-up lid.
Simple and intuitive, thanks to the touch screen control panel.
Flexibility in production volumes.
Adaptable to a laboratory environment, thanks to its mobile and compact design.
The Trilab pilot homogenizer can help you correctly extrapolate your formulations for industrial installations. Its mixing tool consists of three independent and complementary stirring movements:
A slow peripheral movement (which can work in both directions) for peripheral and bottom scraping.

An axial flow main agitator.

A vessel bottom emulsifier-homogenizer.
It can also be equipped with an optional integrated melter.
The Trilab Emulsifier produces liquid, viscous, or thick mixtures via emulsification, homogenization, and thermal treatments (cooling or heating). These processes can be carried out without transferring the product into an intermediate tank. 
The Trilab has a vacuum introduction valve to streamline the addition of powders or liquids into the emulsifier. It is also equipped with a control system that allows the operator to follow the process phases from one cycle to another with total repeatability and in compliance with GMP (Good Manufacturing Practices).
Applications
The VMI pilot vacuum homogenizer can manufacture various cosmetic, care, and pharmaceutical products.