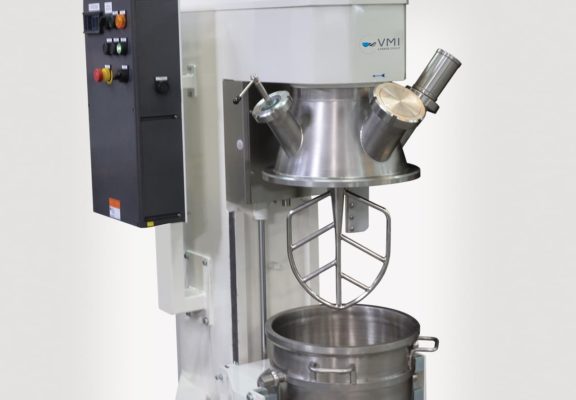 Planetary mixers
VMI planetary mixers are suited for manufacturers who need to mix high viscosity and pasty products. They are also recommended for processes that require high proportions of powders or mineral fillers.
This range of planetary mixers have the ability to work under vacuum, pressure, heating, and cooling, providing great versatility in applications while delivering a high level of performance.
Discover our industrial mixers for the health and chemical industry.
Versatility of applications
Wide range of tools depending on the viscosity of the mixture
Bridge Type Planetary Mixer Ultimix
Enables recipe versatility and handles a wide viscosity range thanks to an interchangeable range of tools
High productivity with programmed cycles, automated integration of ingredients, integration into automated mixing systems
Easy to clean, thanks to the absence of retention zones and an all-stainless-steel design
Easy maintenance: quick access to parts and components
Manufacturers need to master increasingly elaborate and varied processes, and the Ultimix range of planetary mixers (from 300 to 900 liters) is the perfect solution. This range of mixers guarantees repeatability and scalability of production, regardless of the batch or process. Its mixing quality is incomparable, thanks to an adjustment of the tool speed/satellite speed ratio and regulation of the work under vacuum or pressure.
Bitumen mixers
Designed specifically for mixing hydrocarbon products in the laboratory
VMI bitumen mixers have been specially developed for the preparation of homogeneous samples of hydrocarbon products with a maximum reference temperature of 200°C.
The mixing tool is a steel Archimedes' screw that is specially treated to resist abrasion. The machine is also equipped with a removable and adjustable scraper and an electric tank heater. 
Operation of the equipment is secured by a protective enclosure.
To facilitate the handling of the product, VMI suggests pairing the bitumen mixer with a tank elevator.
Column Type Planetary Mixers
Versatility in applications and volumes, thanks to different mixing tools and batch reductions
Simple and intuitive control allows recording of up to 99 recipes in the Digy models
Ergonomic, providing working comfort
Thanks to their satellite movement with 4 to 5 preset speeds, the column mixers enable bakers to homogeneously mix powders and knead highly viscous products. 
VMI planetary mixers have many advantageous features, including:
An easy-to

–

control touch interface
The 40- and 60-liter models of the Phebus range are equipped with the Digy touch interface. The Digy touch interface is shockproof and waterproof and can record up to 99 recipes of 20 phases each. It ensures the consistency and the repeatability of your products.
An optimized design

for daily comfort
Assisted raising and lowering of the tank for PH Digy models

Hydraulic lifting and lowering of the tank for the PH DT models

Option to remove the tool with the tank in place

A tank on wheels for PH DT models and optional tank cart for PH Digy models, which reduces  handling of heavy loads

Wheels kit (included in Digy model) for easy machine mobility

Reduced noise level
Comfortable ergonomics

and reducing cleaning operations
The machine's materials, zero retention zone, and rotary protection (NF EN 454 standard) ensure hygiene during use and easy cleanability after production.
The applications are numerous: 
For the cosmetic and pharmaceutical industry

: blush or eye shadow (with or without nacres), foundation, toothpaste, starch paste, and more

For the

chemical industry

: resins with mineral fillers (with or without catalyst), ceramic slurries, refractory products, cement with or without fibers (metallic or organic), concrete for standardized tests (with aggregates up to 20 mm), fatty inks, and more
Applications
Recognized for their high performance, planetary mixers are the most suitable equipment for the preparation of high viscosity products. The "laboratory" and "industrial" versions can be used for the following chemical, cosmetic, or pharmaceutical applications.