New touch interface for the VMI fermenter
Following the introduction of the Genius Digy mixer, VMI is launching its fermenter equipped with the Digy touch control interface. The AF Compact 100 EV has evolved into the AF 100 Digy!
Thanks to this new digital dashboard, VMI is reinforcing its commitment to simplify the daily life of bakers. The VMI fermenter, known for its strength and user-friendly design, now has a completely redesigned, intuitive touch control panel. It can produce up to 80 kg of leaven dough.
A new digital and intuitive control panel
The Digy interface has been designed to simplify the handling of the bakery equipment by the artisan bakers and their team, while respecting their working environment. The Digy screen and its frame are designed according to the International Electro-technical Standard IP65, to ensure shock resistance and waterproofing against moisture and flour dust.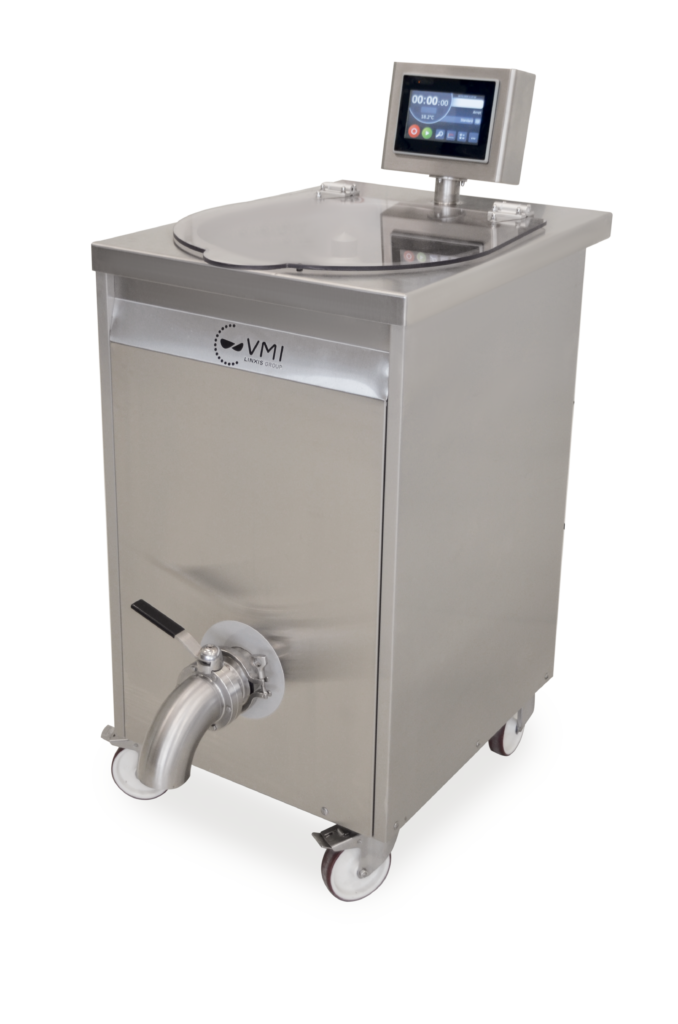 Give a unique signature, taste and appearance to your bakery products! Changing settings, such as quantity of sourdough, cycles duration and heating temperature, is easy with the new Digy touch interface. The intuitive and simple design of the Digy interface uses universal graphic language code for an immediate processing. In addition, different user levels are available to customize access to features, according to your needs.
The AF 100 Digy fermenter: the baker's signature
New features for the fermenter
The Digy dashboard simplifies the use of the fermenter, its programming and management cycles. In addition to memorizing mixing times, this new feature allows you to record up to 3 sourdough recipes, each composed of 4 configurable phases (mixing, fermentation, maturation, preservation). For each of these recipes, the Digy touch interface displays the data for the user:
Current phase number
Name of the current phase
Remaining time (mm:ss)
Tool speed (rpm)
Temperature (°C ou °F)

The AF 100 Digy and its digital control panel allows the baker to record sourdough recipes. This feature is ideal to ensure repetability and regularity of production, which will help maintain the taste and, therefore, the artisan's signature within the recipes.
«For the precision work required by top-of-the-range products made with sourdough, the VMI fermenter was the obvious choice. Whether based on white or grey organic flour, all my products are made with sourdough. Therefore, I needed a machine that could perform with accuracy and repeatedly, my carefully designed recipes. This fermenter accompanies our approach which consists in targeting excellence, for example by monitoring all parameters connected to the quality of the dough, while being in a position to have fresh strain of sourdough readily available. Authenticity and quality of taste and nutrition of our products are obtained through demanding processes and the modernity of our equipment.» Testimonial Boulangerie Pain d'Antan