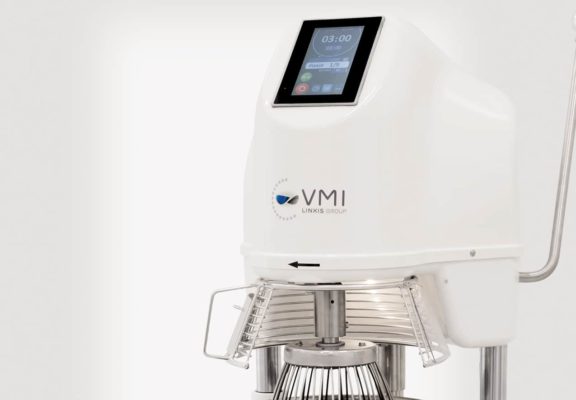 Planetary Mixing Machines
VMI planetary mixers are designed to streamline productivity, working comfort, and hygiene, making them essential tools for bakers and pastry chefs. Thanks to their versatile attachments, these mixers can make all kinds of products such as pastries, specialty breads, sponge cakes, meringues, cookies, shortcrust, sweet dough, creams, and sauces.
From 10 liters to 200 liters
Accuracy and consistency when mixing a variety of products
Ease of use, providing better working comfort
BV Mixers
Versatility of applications with three easily interchangeable tools
Hygienic stainless-steel design
The BV 12 and BV 22 mixers, with 10- and 20-liters capacities respectively, are the perfect tool for  operators that work in the food or baking industries.
These mixers can work on feet or on a bench and meet requirements in ease of use, hygiene, and safety. Their three tools (whisk, paddle, spiral) and speed variations allow users to work with a wide range of recipes.
PH Digy Planetary mixers
Easy cleanability ensures machine hygiene (no retention zones)
Programming of recipes using the Digy touchscreen interface ensures product repeatability
Comfort of use with assisted bowl lift
The PH Digy planetary mixer can help you achieve the most diverse range of products with accuracy and consistency. Whether you require a whisk, a paddle, or a spiral, you can now easily achieve your best batter within short mixing times. The bowl lighting and the assisted bowl lift provide work comfort, and the Digy touchscreen interface enables users to program many recipes that can be repeated daily. The removable and rotating safety grid prevents splashes and flour dust.
The PH Digy Planetary Mixer is built to make a large variety of products with consistency. Its touch control interface can work in two modes:
Manual: 5 pre-set and adjustable tool speeds. Control your recipes and change the speed and duration of each phase while mixing. 

Recipe programming: customize, save, and execute up to 99 recipes with 20 phases.
"Origine France Garantie" label
The PH Digy planetary mixers are certified to be made in France. As a major brand and leader in the bakery industry, VMI has certified the core of its range of mixers and planetary mixers to be all designed and mounted in France.
PH DT Planetary Mixers
Accuracy and power of use for intensive productions (up to 200 liters per bowl)
Ergonomic-friendly, thanks to a wheeled bowl support and a hydraulic bowl lift
Delivered with three tools for versatility in applications
The PH DT planetary mixer is the ideal industrial equipment for creating creams, meringues, sponge cakes, bread, and pastries. Its three tools – whisk, paddle, and spiral – ensure accuracy and versatility in production. The bowl capacity is from 80 to 200 liters, allowing large-scale productions. The hydraulic bowl lift facilitates comfortable work.
Applications
The planetary mixers' three interchangeable tools allow the production of many products such as: