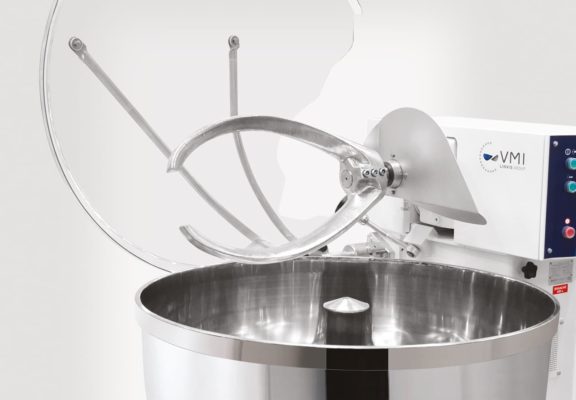 Fork mixers (with fixed or removable bowl)
Designed to produce traditional bread, VMI's fork mixers can work wonders with Viennese pastry and pizza dough. The unique designs of our Rex, Phébus, and Mahot pre-mixers enable traditional kneading methods while adapting these methods to the dough's specifications.
VMI offers a complete range of fork mixers that come with the option of fixed or removable bowls and a variety of bowl volumes (30 to 330 liters).
Our removable-bowl fork mixers allow for dough rest periods and mixture preparations while still maintaining high output production. Manufacturers can also use them in combination with an elevator to facilitate unloading. Removable-bowl fork mixers are robust, reliable, and flexible providing manufacturers with excellent support in large production runs and traditional bread-making.
From 30 liters to 330 liters
Fork arm, with 2 or 3 branches
Ergonomic and safe design
Applications
Fork mixers are the kneading machines historically used in bakeries. This technology was the first to mechanize the manual act of kneading. Fork mixers offer the ideal compromise that many bakers are looking for: a traditional kneading process that limits the heating of the dough and a fast production time. The mixing tools for our fork mixers are particularly suitable for traditional bakery, pastry, and food products such as: