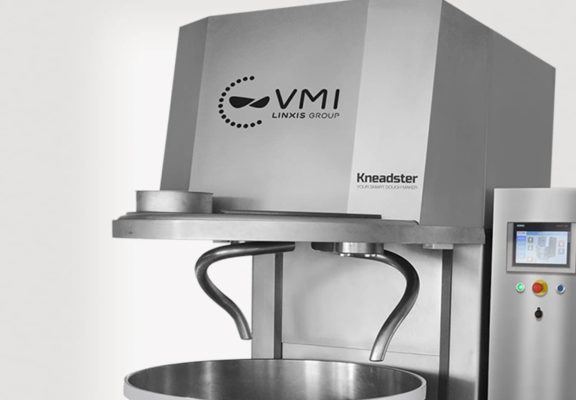 Spiral mixer with removable bowl
VMI's range of spiral mixers with removable bowls achieves productivity, mixing quality, and process control. Retail and wholesale bakeries love these batch mixers for their robustness, versatility, and high output capabilities.
The VMI spiral mixers are the highest level of mixing technology, designed and built from our decades of experience in building industrial mixing equipment. They are fitted with a belt and gear transmission, a removable bowl system, and a manual for automation of recipes. Our vertical batch mixers are easy to use and ensure regular pre-mixing and kneading with the best tool-bowl movement.
Discover our Vertical mixers with fixed bowl and Berto's access range spiral mixers.
From 80 to 750 kg of dough*
*Maximum dough capacity for an average hydration rate of 60%
Wide range of tools that can work with low to high hydration doughs, cereal bars, veggie steaks, etc.
control for a increased daily productivity
SPI AV Spiral mixer with Removable Bowl
Efficiency and consistency 24/7 with a robust design and long lifespan
Ensures hygiene and easy maintenance
The SPI AV removable bowl mixers can make small and large productions of doughs with various hydration such as bread, pastries, pizzas, donuts, bagels, cereal bars, and veggie steak. Their robust design ensures repeatable productions. The bowl rotation is consistent, even with CO2 injections or the addition of ice, and provides uniform premixing of ingredients, as well as quick development of a gluten network.
With powerful motors that allow them to produce 24 hours a day, 7 days a week, the SPI AV removable bowl mixers can be adapted to all configurations thanks to:
A wide range of easy-to-change mixing tools (spiral, paddle, whisk, cutter, etc)

Tool speed variation, which offers greater flexibility of work and allows personalization of traditional bread and ciabatta recipes.

Intuitive control and recipe recall (for the version with HMI).
SPI AV mixers are the ideal solution for bakers because of their:
Cleanability: a compact design without retention areas, a drain plug at the bottom of the bowl, and a slanted front frame to make draining water easier.

Quick and easy access to the control points for maintenance.
DAVI double tool mixers
The SPI DAVI range of removable bowl mixers comes in a double-tool version.
These mixers have a high kneading power to ensure speed and quality when mixing dough. They are designed to develop a high level of torque to effortlessly mix rich, stiff doughs such as pie, rolled ,or frozen doughs. Customizable with a whip or a paddle, SPI DAVI mixers can be used to make all your pastry products.
Vertical Batch Mixer Kneadster®
All stainless steel machine for industrial or semi-industrial use
Innovative and efficient mixing technology for all types of doughs from firm to hydrated
Ergonomic and easy to clean
Modular and designed to scale with your production line
The Kneadster® mixer is designed for bakers who want to make quality artisan bread on an industrial scale. It's also suitable for producing products in other dough families such as sandwich bread, pastries, brioche, cookies, snack products, and more.
Based on VMI's innovative technology, the Kneadster® mixer is fitted with a removable bowl and a double mixing tool of exclusive design. This double mixing tool's diameter, shape, and position in the bowl allows the dough to develop quickly and evenly without heating. It enables the machine to be less stressed, more durable, and more reliable. It also allows for even incorporation of ingredients added in offset.
Other advantages of the Kneadster® mixer include:
Control of your recipes and mixing processes using the intuitive HMI and production parameters tracking.

Economic and responsible production. VMI has developed the mixer to store and re-inject energy into the tool drive circuit, reducing its consumption.

Working comfort: ergonomic and silent design.

Better hygiene. With its fully stainless steel construction and zero retention area, the Kneadster® mixer can be easily washed with a pressure cleaner.

Scalability: Kneadster® mixers can be integrated into automated systems.
Kneadster® mixers are available in bakery or pastry mixing tool versions
Applications
Thanks to their versatility and efficiency, the SPI AV, SPI DAVI, and Kneadster® mixers are the perfect solution for semi-industrial and industrial productions of bakery, pastry, and snack foods.