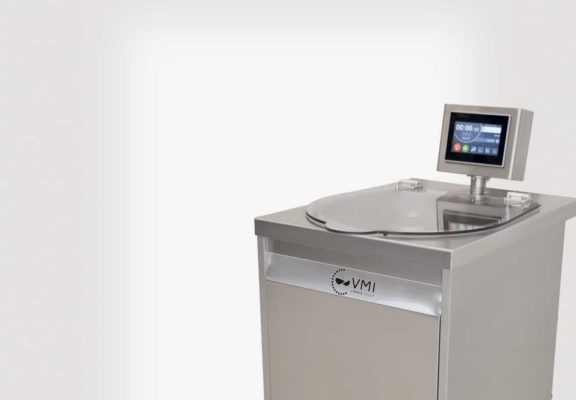 Sourdough Machine
To stand out from the competition in the baking world, it is important to produce consistent and excellent products that bring satisfaction to customers every day. In regards to current consumer demand for healthier breads, sourdough is the perfect answer. That is why VMI has designed a machine to "cultivate" ferments. 
Our sourdough machine mixes, matures, and stores both sourdough and poolish. With its automated cycle management, the VMI fermenter frees you from all the constraints of daily sourdough production.
100 liters, from 10 kg to 80 kg of semi-pasty sourdough
You can program three sourdough recipes and change the parameters at any time.
thanks to a stainless steel design and a tool that can be easily dismantled and cleaned.
AF 100 Digy Fermenter
Easy to clean with all stainless-steel equipment and an easily removable tool.
Homogeneous diffusion of the heat in the bowl is ensured by silicon-coated heating plates.
Guaranteed production safety thanks to the overflow sensor.
Easy to move due to self-braking wheels and compact design.
The latest generation of AF 100 Digy fermenters produces liquid sourdough from 100% hydration. Accurate temperature and time adjustments made in the process of fermentation help maintain control of the recipe and its process.
At the end of the fermentation process, the sourdough can be stored in the fermenter under positive cold conditions and kept for up to 48 hours, thanks to its cooling system via an embossed bowl. Moreover, the machine's ease of cleaning makes daily fresh strains of sourdough possible.
The AF 100 Digy fermenter facilitates program and cycle management with its Digy touch interface, which is designed to be shock-resistant and waterproof against moisture and flour dust (International Electro-technical Standard IP 65).
Thanks to this digital control panel, bakers can customize and save 3 sourdough recipes. They can adjust the settings for the following 4 phases (mixing, fermentation, maturation, preservation) in each recipe:
The duration

The rotation speed of the tool and bowl

The desired temperature
This feature ensures repeatability and consistency of sourdough production.
"Origine France Garantie" label
The AF 100 Digy fermenters are certified to be made in France. As a major brand and leader in the bakery industry, VMI has certified the core of its range of mixers, planetary mixers, and fermenters to be all designed and mounted in France.
Applications
The AF 100 Digy fermenter can be used to make sourdough recipes such as traditional baguettes, pies, and croissants.