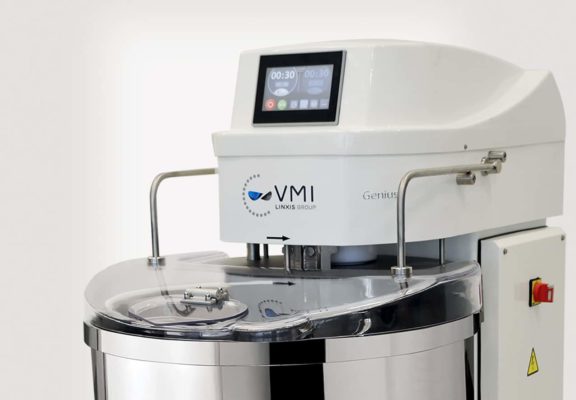 Spiral mixers with fixed bowl
VMI fixed bowl spiral mixers are built to mix products with reduced kneading time and limited heating of dough. They are ideal for producing traditional bread, special bread, and pastries. They can handle a wide variety of recipes while ensuring quality and repeatability for bakers. 
VMI offers a range of vertical spiral mixers that include a fixed bowl with capacity from 50 liters to 300 liters.
Find out our Vertical mixing machines with removable bowl and Berto's access range spiral mixers.
From 2 to 160 kg of dough*
*Maximum dough capacity for an average hydration rate of 60%
Optimal premixing and kneading for the best homogenization
Ergonomic machines to improve comfort and facilitate daily work
Spiral mixers with fixed bowl SPI 53 & 63
Small batches with high versatility of dough preparations
Easy to use with a unique liftable head and the caster kit
Transparent cover with a hatch to add minor ingredients
Intuitive touch interface with recipe programming
Quick attachment system for the tool (snacking version)
The SPI 53 & 63 fixed bowl vertical mixers are ideal for small volumes of dough ranging from 1.6 kg to 40 kg*. Its mixing tool has a unique spiral shape that increases dough penetration and optimizes kneading. These mixers are recommended for the production of traditional bread, special bread, and pastries. 
The SPI 63 Digy version is equipped with an automatic and unique lifting head. Bowl emptying and cleaning are very easy, and you can access the tools and the bowl with little effort. The Digy touch panel is intuitive, allowing programmable recipe settings. 
The SPI 63 Digy is available in a Snacking version for greater versatility of applications in pastries and savory preparations. The mixer is delivered with a paddle and a scraper. The quick coupling system allows easy replacement of tools (spiral and whisk optional). The SPI 63 Digy Snacking is fitted with an automatic head lift and a drain plug. It can be mounted on a caster kit for easy movement (accessory).
"Origine France Garantie" label 
The SPI 53 & 63 spiral mixers are certified to be made in France. As a major brand and leader in the bakery industry, VMI has certified the core of its range of mixers and planetary mixers to be all designed and mounted in France.
Maximum dough capacity, for an average hydration rate of 60%
Spiral mixer with fixed bowl Genius
Intuitive touch interface with recipe programming
Double transmission to knead stiff dough
Mobility of the machine, thanks to a pedal integrated into the frame
A water inlet to feed the mixer and to baste during production
An access hatch for easy maintenance of the machine
The Genius spiral mixer is suitable for all types of bread doughs, including the most resistant ones based on solid flours. This baker's mixer works quickly and efficiently thanks to the reduced mixing times and its ability to cover a wide range of dough hydrations. 
The GENIUS has been designed to improve the working comfort of the artisan baker while increasing efficiency and productivity. The GENIUS guarantees a perfectly homogeneous mixture with the necessary aeration-shearing-extension balance for dough production. The ergonomics have been thought out down to the smallest detail, with a pedal integrated into the frame to facilitate the movement of the mixer. An integrated water inlet is provided to simplify mixing and cleaning. The double transmission and the shape of the spiral allow for production of all types of dough. 
A second version of the mixer, the GENIUS Digy, integrates the double speed variation between tool and bowl, the Digy touch panel, and the programming of recipes. 
Waterproof hoods to prevent flour dust 
VMI takes care of the health of bakers by equipping its machines with a transparent cover to limit flour dust emissions, which is the primary factor of bakers' asthma. Beyond their health, bakers are now at risk if they don't comply with European safety standards. All the mixers from the VMI craft range comply with European standards EN 453 and EN 454. 
Applications
Vertical spiral mixers are suitable for most types of dough. Spiral, paddle, or whisk, their tools provide the necessary movement to homogenize the dough, whatever the baking preparation.