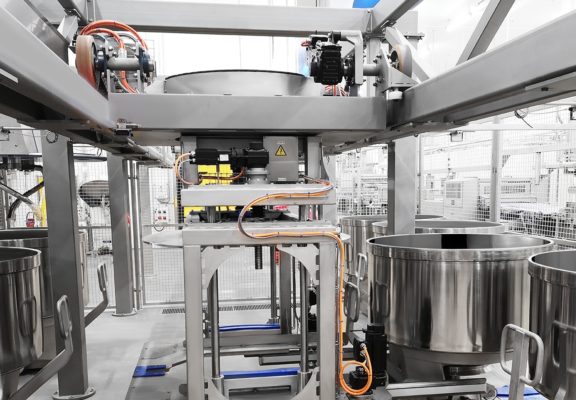 Automated Batch Mixing Systems
Designed with high productivity in mind (from 1500 kg to 8 tons of dough per hour, 24 hours a day), VMI's automated mixing systems can meet the most demanding requirements for process automation and modularity.
Our automated batch mixing systems enable operators to program production schedules and recipes, as well as automate the cleaning process. We included these features to help increase your productivity, guarantee production consistency, and reduce production errors.
Discover our continuous mixers and our transfer elements and ancillary systems.
Hourly production of 1500 kg to 8 tons of dough
your production processes, whether simple or complex
Batch Mixing Systems
High level of productivity
Versatility in applications and processes (breads, pastries, cookies, pizzas...)
Ensures process consistency and traceability
Optimized hygiene and maintenance
VMI has been offering automated batch kneading systems for many years. These systems are reliable solutions designed to offer food and bakery manufacturers high levels of productivity (from 1500 kg to 8 tons of dough per hour, continuously). The automated mixing systems integrate several mixers or planetary mixers and automate the progression of batches from one station to another. This helps operators limit downtime and increase productivity and output.
Our engineers design the equipment in compliance with any production constraints you may have (simple or elaborate kneading process) to ensure they are suited to your bakery, pastry, or snack food productions.
The main features and benefits offered by our automated batch mixing solutions are:
Two technology options

: an automated unit with a suspended shuttle or a traditional ground-based shuttle

Depending on how simple or complex your production needs are, features can include pointing, autolysis, degassing, delayed dosing of ingredients, incorporation of sourdough, scrape dough, inclusions etc.

Wide range of mixing equipment

to choose from, depending on your production needs: spiral mixers, fork mixers, bottom discharge mixers, Verymix III horizontal vacuum mixer, planetary mixers

Flexible and secure programming of recipes, thanks to an intuitive and powerful HMI

Consistency in the quality of finished products, thanks to recording capabilities for recipes and manufacturing parameters

Traceability of operations (history of information elements, data import and export)

Optimized cleanability: automatic cleaning of batches, reduced water consumption, zero risk of contamination

Easy maintenance and the option of remote technical assistance
Depending on your production constraints and the type of product you're manufacturing, VMI offers different mixing equipment for your automated lines:
Verymix III – Horizontal Vacuum Mixer
Kneading under controlled environment for better product shelf life and softness
Ideal for frozen products, thanks to a triple-envelope stainless steel bowl
Easy cleaning and maintenance
Specially designed to produce "sponge and dough" breads and pastries, the Verymix III range of horizontal mixers allows for vacuum kneading of top-of-the-range products that require delicate processes (1,000 to 7,000 kg/hour depending on the cycle time. Maximum speed 150 rpm). The combination of vacuum with the Verymix III's kneading qualities optimizes the shelf life of your products. Its triple-envelope stainless steel bowl activates the cooling of the dough to optimize production for frozen products. 
The Verymix III horizontal vacuum kneaders guarantee consistent and easily reproducible dough. The crumb is fine and regular, the dough is soft, and the color of the crumb is more or less white, depending on the controlled kneading environment and its intensity.
The machine comes with a user-friendly and powerful HMI for easy control. The access to consumption data and the different usage measurements allows operators to adjust the quality of production and to improve their yield rate.
The Verymix III mixer is designed to facilitate easy cleaning and maintenance operations.
Bottom Discharge Spiral Mixers
Versatility in finished products with several mixing tools to choose from
Compact and ergonomic equipment
Modularity of the mixer, according to the evolution of your production level
VMI's bottom discharge spiral mixers (VPF) make for a compact and economical kneading solution. Thanks to the bottom discharge system, the installation takes up very little space and adapts easily to production constraints (reduced ceiling height). Its wide range of mixing tools and intuitive control system make it possible to produce all types of dough, from medium to highly hydrated. 
Combined with an elevator/tipper system, the bottom discharge mixers can produce up to 2 tons per hour with the assistance of a single operator.
Applications
Whatever the complexity of your manufacturing process or your technical constraints, our design offices can develop a custom solution to make the mixer adapt to your projects.