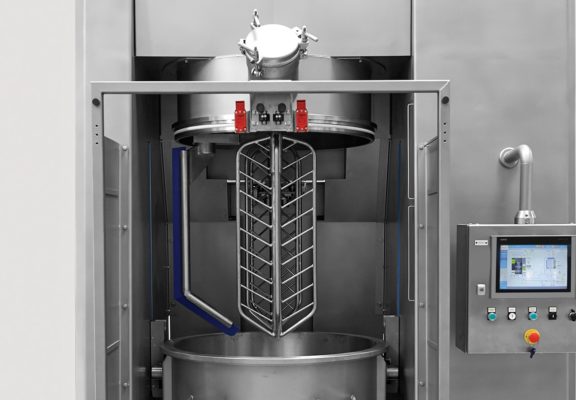 Planetary Mixers for the Baking and Food Industries
VMI's planetary mixers can help bakers and food manufacturers achieve excellent aeration, emulsion, creaming, and whipping in production. Our column or bridge batter mixers can work under vacuum or pressure. Other features include ingredient automation, short draining times, heating/cooling, and cleaning in place.
View our planetary mixing machines for the bakery.
From 300 liters to 900 liters
Accuracy and productivity
Double tool and scraper for best-in-class mixing quality
A patented, extra-flat gearbox for perfect hygiene and minimal space
Ultimix Planetary Mixer
Versatility in applications: can handle a wide range of viscosities thanks to interchangeable tools.
High productivity: programmed cycles, automated integration of ingredients, integration into robotic planetary mixing systems.
More optimal cleaning due to the absence of retention zones and an all stainless steel design
Easy maintenance: quick access to parts and components
The Ultimix line of planetary mixers was born out of a collaboration between VMI and university scientific teams. Our studies determined the best combination of parameters that can achieve the best possible mixing. The Ultimix guarantees repeatability and extrapolation of products, whatever the batch or the recipe. Its mixing quality is incomparable thanks to the optimal tool-satellite speed ratio and the regulation of vacuum and pressure. The Ultimix can be fitted into automated production systems to support the growth of your product lines.
Applications
The Ultimix has a tank capacity that allows it to produce large quantities of various products such as: